We are proud members of the
Golden Retriever Club of America.!
When the puppies are 6 weeks old, the balance
of the purchase price is due. The puppy must be
fully paid for and cheques need to be cleared,
before we arrange the pickup of your puppy.
- Show/Performance Puppies will be considered first.

- Puppy Notes & Information
- Vaccine & Worming Plan
- Feeding Instructions
- Pictures of Parents
- 5 Generation Pedigree
- Health Clearances on Parents
- CD with your Puppy Pics., incl. Litter Mates
- Puppy Toy with the smell from their
Litter Mates & Mom
Hopefully that helps you - as a potential puppy owner to guide you through the process.
If you have any questions, please feel free to contact us by email or phone. (802-253-8465)

Please note: We do not sell to brokers that are connected to and/or are
pet shop owners, puppy mills or any commercial establishments!
To be considered for a Grey Birch Golden Puppy, each
potential client must fill out our Puppy Questionnaire.
- After this is reviewed, you will be contacted by phone
or email for an interview, before we approve.
- When you are accepted to be on our waiting list, we
then require a $300 Deposit. If you decide at any
time to cancel your reservation, we will refund you
$100, this to ensure you are serious about
obtaining a quality puppy.
At Grey Birch Goldens we only breed occasionally.
As a responsible breeder I am committed to produce healthy
dogs, that are structurally well built Golden Retrievers, with a
good temperament, that conform to the Breed Standard.
In our breeding program we accept only dogs, that have
all health clearances and I devote a great deal of time on
researching the pedigree and overall health.
When finally the time arrives, when you come to pickup your precious puppy, you will
get the following things and information to take home with you, so that you can take care of your
puppy properly.

All of our puppies will be
properly raised &
socialized, before they are
going to their new homes.
The puppies will have
been exposed to different
situations, like surfaces,
sounds, people, dogs,
crates, etc. ...
This will make them
more stable , outgoing
and be better prepared to
adopt easily to their new
homes.
The puppies will have been de-wormed, vaccinated , vet-checked and will undergo
temperament testing, before they go to their forever home.
The breeder will determine which puppy goes to which home. We are committed to find the best
home's for our puppies. That is why we observe & evaluate each puppy, so it matches with it's
personality the family's needs and lifestyle and to determine between a potential pet and/or show
puppy.
After the puppies go to their new homes and start their independent life, the breeder will be
available to answer & discuss questions/problems concerning the puppy for the life of the puppy
and hopefully receive lots of updates & pictures.
Pet Puppies will be sold an a Spay/Neuter Contract
with AKC "Limited Registration", that means
simply you can do every activity with your puppy,
such as obedience, agility, and fieldwork, but you
can't do conformation and you cannot breed the puppy.
- Being placed on our waiting list does not guarantee you
a puppy, due to circumstances, where there might
not be enough puppies in the litter, or not the right
match, etc...
- We do ask that the new owners pick up their puppy
in person.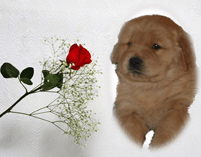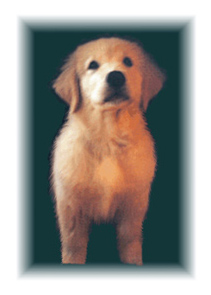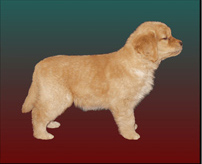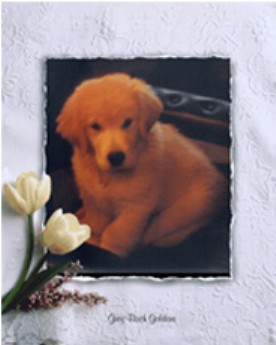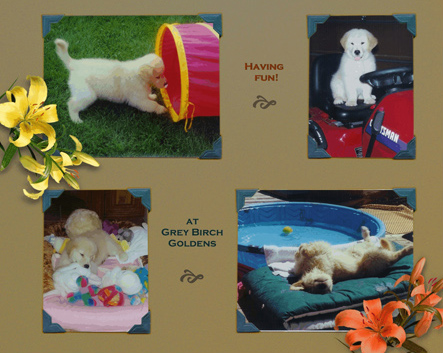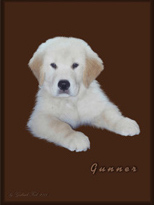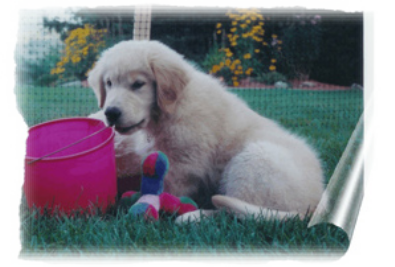 Stay tuned for
October 2017 Litter/Puppies

If you are interested in a Grey Birch Golden Puppy,
please fill out our Questionnaire below.