---
---










February 12, 2010 - Long Island Golden Retriever Specialty

Grey Birch's Red Hot Chilly Pepper - Chilly wins with 9 Month old
2nd Place in Sweepstakes & 4th Place in Bred-By Class
owner handled under Breeder-Judges (Nancy Talbott & Cindy Williamson)


October 10, 2009 - Chelmsforst, MA

Grey Birch's Red Hot Chilly Pepper - Chilly wins Bred-By Class, WB, BOB & a Group 1
1st Puppy Match with 4.5 Month old


January 18, 2010 - Fitchburg, MA

Grey Birch's Red Hot Chilly Pepper - Chilly
1st Show places in the 6-9 Month Puppy class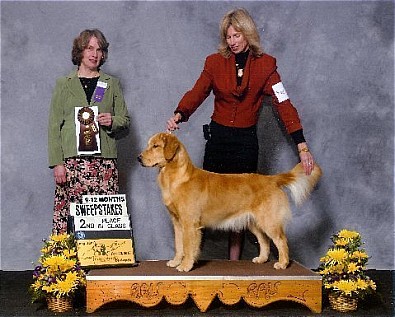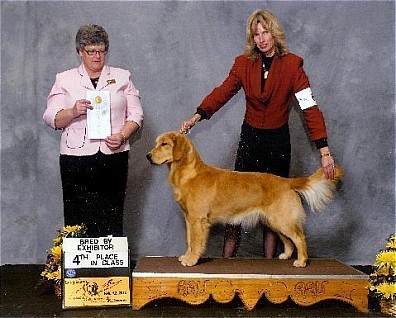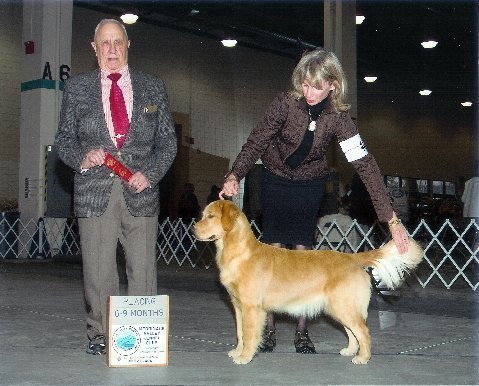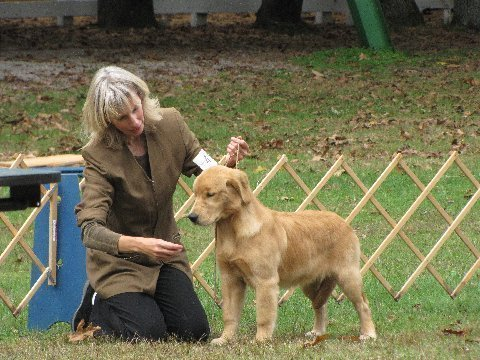 March 27, 2010
Indy and 10 month old Teddy earned their CGC Title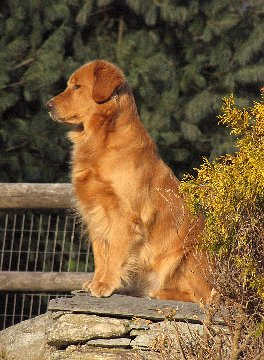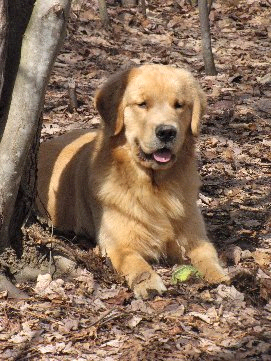 ~ April 2010 ~
Springfield, MA
Chilly wins both days the Bred-By-Class
at 11 month old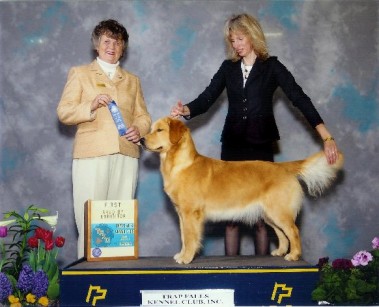 Click on a show pic to see the bigger version!


Noah's 1st time ever in the ring with 12 month old He wins that weekend 5 pts. with going WD, BOW & 2 BOS ! Next weekend Noah finishes easily with going WD, BOW, BOS & WD, BEST OF BREED over 2 Specials and top it with a Group 4 Placement!



Chilly wins her title all from BBE class in less then 2 weekends at 12 month of age
4 Shows - 4 Wins
with 3 BOW, BOS & a BOB over Specials
Thanks to the judges Doug Windsor, Honey Glendinning, Sandra Lex & Francois Bernier
who made it happen!
Pinky finished her Can CH. with going WB & BOW for 4 pts. on her 1st day at the huge SD&G Shows in Long Sault.
At the Quebec Shows Pinky gains 7 pts. in one weekend with going WB & BOS over a Female Special, next to her brother Noah who won the breed and a Group 4!
Pinky winning her first 2 pts. with going WB at the Trois Rivieres shows!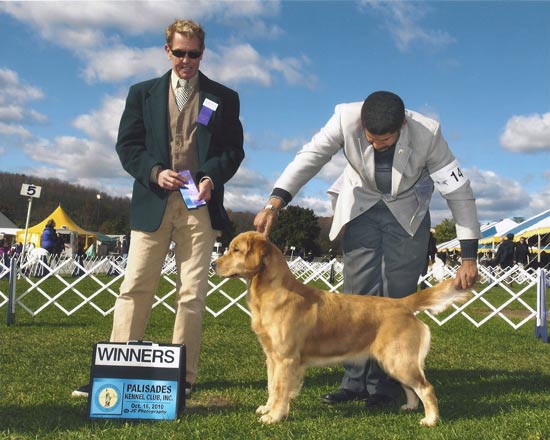 Chilly
went Winners Bitch & earned 5 Reserve Winners,
on her first 2 weekends out with Pam & Mark Desrosiers.
We are very proud of our girl!

Can. CH Grey Birch's Red Hot Chilly Pepper (Am. CH ptd.)
She will be selectively shown, since she still needs to mature.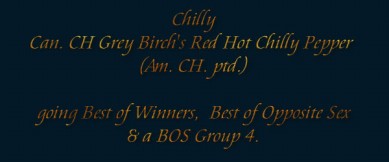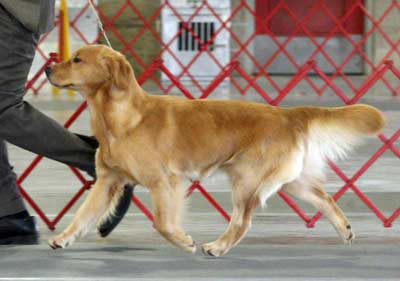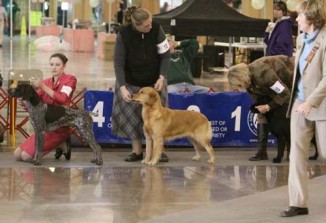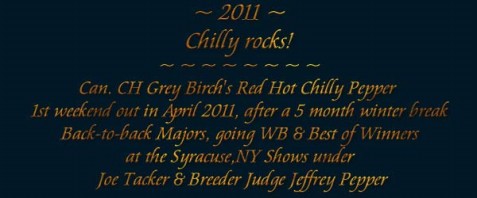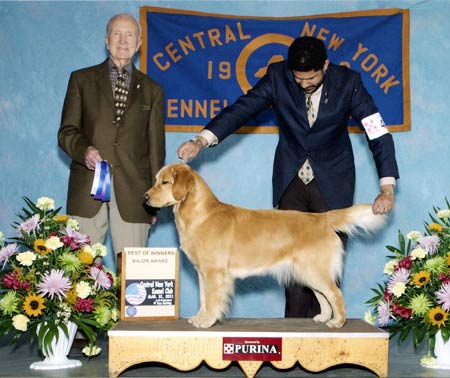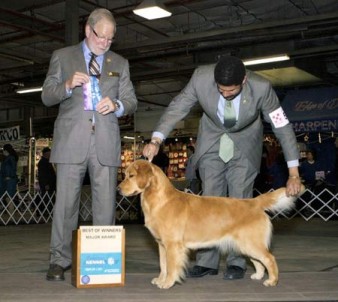 & goes Major Reserve Winner on the 3rd day

~ ~ ~
The week after she goes WB again
for another 2 pts.at the Maryland Shows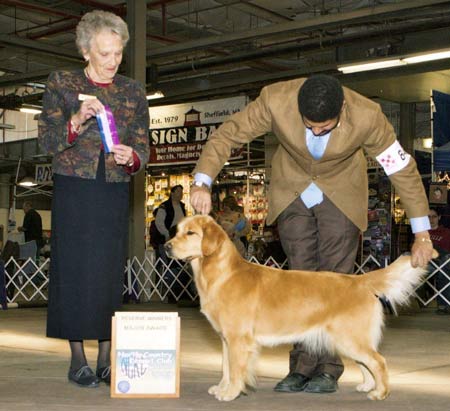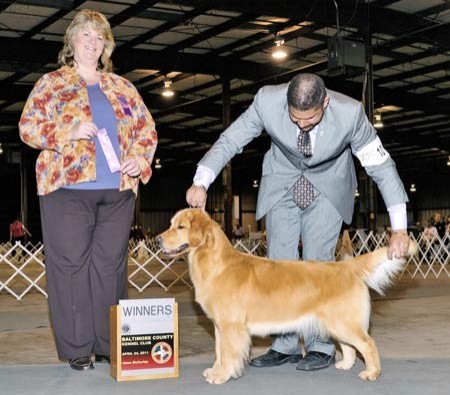 ~ ~ ~
Then Chilly went Winners Bitch at the CT-Shows
in the pouring rain !

A huge "Thanks" to
Mark Desrosiers & Rebecca Bradley
for showing her so beautifully !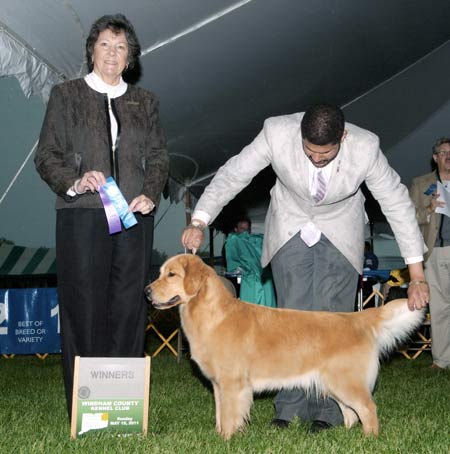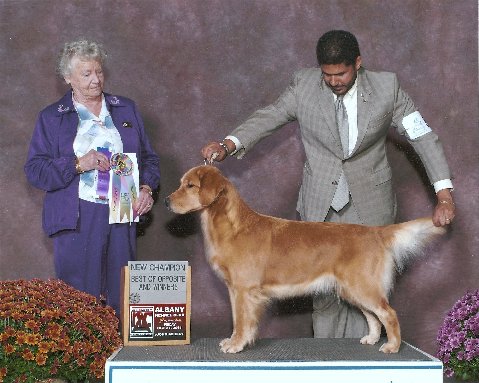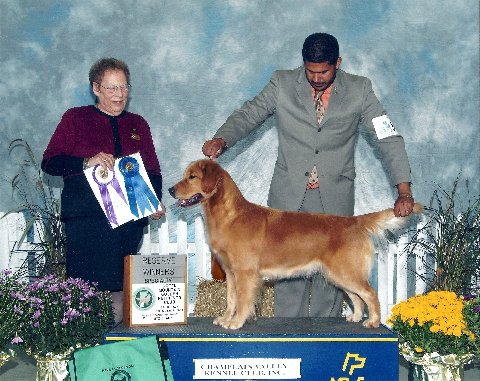 Chilly winning at the Golden Retriever Specialty Show a 5pt.Major RW

Under Breeder Judge Barbara Pepper!
Chilly going Winners Bitch & Best of Opposite Sex
over Specials to finish her Championship!
Grey Birch Goldens has a new Grand Champion!

AM GCH / Can CH Grey Birch's Red Hot Chilly Pepper

Chilly archived her Grand Champion Title
with 4 Majors in 6 weekends with going BOB over several GCH & toped ranked Specials,
BOS & Select Awards, also from Breeder Judges!
Best of all, she was mostly owner handled.

Along the way she received an "Award of Merit" at the huge
New Jersey Golden Retriever Specialty!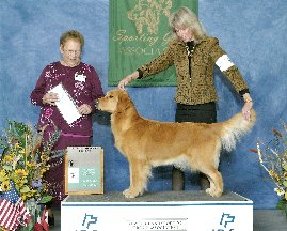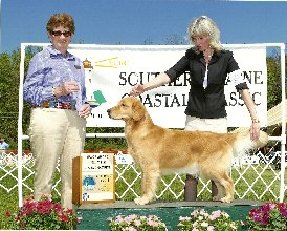 Major Select NE Sporting Group Association
from Breeder Judge Barbara Pepper
New Grand-CH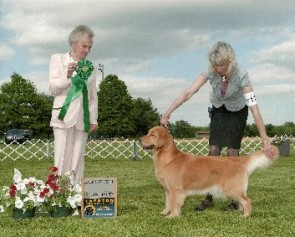 Judge Award of Merit